Children and Youth
Our initiatives
Our musical experiences for children and the young include talent development, communicating music to primary and lower secondary schools and youth education establishments, as well as family concerts for young and old.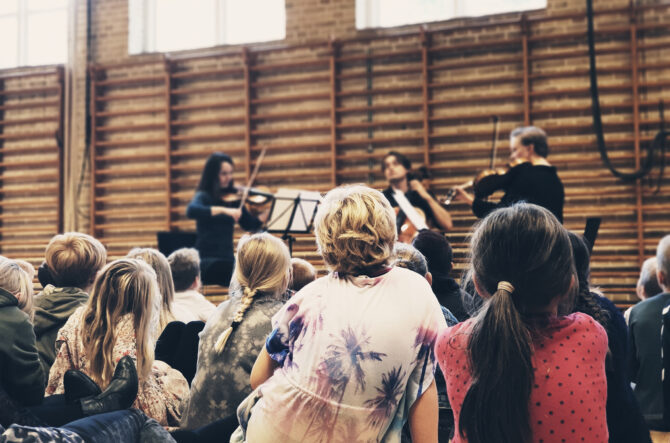 Local school concerts
School concerts are for fourth grade (9-10 years old) classes, and they are regularly changed as required. School concerts are held at your school or in our own concert hall at HEART.
School concerts can be a one-off good experience for the children, or they can be included as part of teaching in Danish or music.
The focus points for the school concerts are:
Classical music and improvisation
Instruments and composers in classical music
Moods and narratives in music
For more infomation about our school concert formats please contact  info@emv.dk 
Musical offers for upper secondary education
We offer mindfulness concerts for young people in upper secondary education.
For more information, contact info@emv.dk
Explore on your own
Find inspiration at any time in our teaching material and videos. The videos introduce our instruments and their families as well as a brief outline of the history of music.
You can also meet EMV (in Danish) at:
Family concerts
Several times a year, we invite both young and old to explore music when we play concerts for the whole family. Watch out for family concerts close to where you live.
The musicians and their instruments
Talent development
We want to help secure a high artistic level for the next generation of musical talent. Therefore, we work regularly with talented young people and hold masterclasses for students at Orkesterefterskolen (boarding school for 16 year-olds) and MGK (supplementary music school for 14-25 year-olds) in Holstebro, and we participate in talent-development collaborations with local youth choirs, including the Herning Church Boys' Choir and the MidtVest Girls' Choir.
Stars of Tomorrow (Morgendagens Stjerner)
Stars of Tomorrow is a recurring collaboration project between young classical music pupils in mid and west Jutland, MGK MidtVest (supplementary music school for 14-25 year-olds), Orkesterefterskolen (boarding school for 16 year-olds) and EMV.
The course consists of three parts:
An audition
One week of classes, at which the young talents are taught and play together with musicians from the ensemble
A final public concert at HEART